Taking a Global Event Digital
Global Conferences
Goal
Provide exceptional speaker management, content management and technical support for a global digital program.
Challenge
Shifting their large in-person program to a global digital conference meant splitting their program from one time zone to three geographic region time zones, and providing assistance with speakers, content management and follow-the-sun support.
Solution
Our Event Managers assumed a hands-on role in the speaker management process being the main point of contact for all speakers. Lead time for content was increased for the digital program as all presentations were prerecorded and needed to be reviewed, edited, and uploaded in the platform. Event managers met with each speaker and the client to develop sessions, prepare for recording, ensure adherence to timelines, review and edit presentation decks, and assist with ensuring brand compliance.
To assist with content management, we developed a tool to manage all sessions within the same platform as their registration website. Through this tool, they were able to make edits, accept or decline the waitlist, see speaker information and get information on each session.
Ensuring accessibility and proper closed captioning was essential, so our team reviewed SubRip Subtitle Files (SRT) for the 160 presentations. Review of each session took approximately 3.75 hours, making this a massive undertaking with over 600 hours of QC and cross checking.
The final step was deploying a team to provide follow-the-sun technical support for all geographic regions. This meant having staff available 24-hours per day to provide real time support to attendees as they viewed content in various time zones. Our event technology managers, in conjunction with the client's team,  provided technical support and answered questions from the email box and help desk. Our event managers made sure Q&A moderators were granted access, videos played, monitored chat and ensured that presentations were flipped to on demand at the conclusion of the simu-live presentation.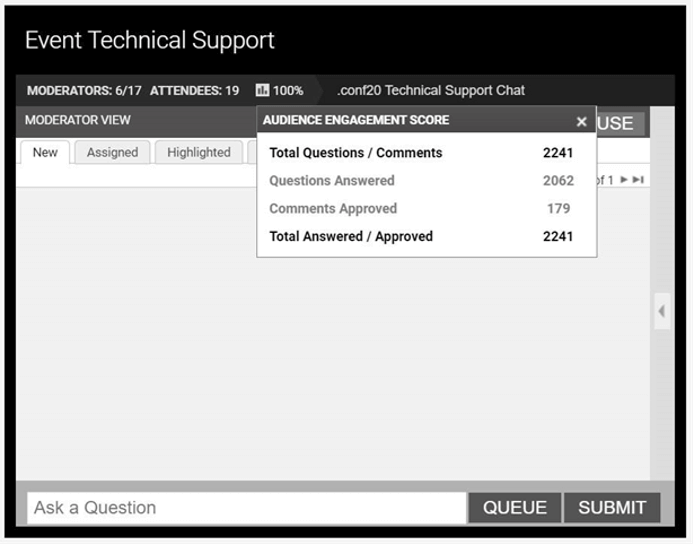 Highlights
Built portal for internal stakeholders to manage sessions
Follow-the-sun technical and chat support 24-hours per day for two consecutive days
600 total hours of closed caption cross checking for 160 sessions
Services
Technical rehearsal and event day support
Live chat and Q&A moderation
Digital attendee engagement
Attendee and tech support
Speaker management
Sponsorship program
Budget management & final reconciliation