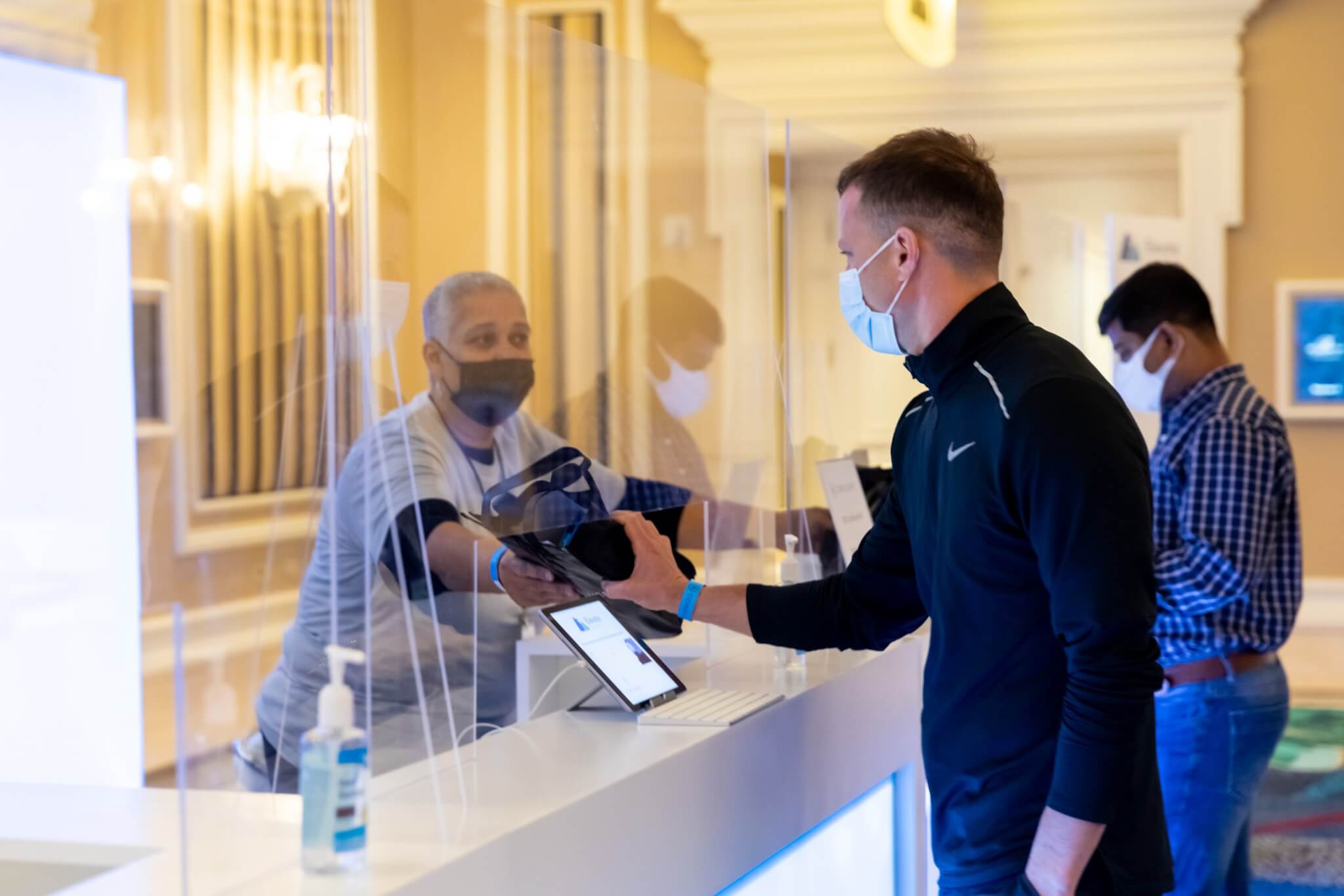 As live events return, navigating the changing landscape of health and safety regulations and protocols is keeping everyone on their toes. Here are some of the ways we've successfully held large, live events to start off the new year.
Health and Safety Protocols
One of the most important, and most involved, aspects of returning to live events is integrating health and safety protocols. So far, we have seen Covid protocols err on the side of caution with rigorous testing, daily check-ins and mask requirements to focus on attendee safety.
For several recent large events, daily testing was required for all attendees and staff, which was paired with a daily health survey and daily colored wristband required for admittance. Tests and masks were integrated into swag bags received at registration to allow attendees to test in the privacy of their room before making their way to the conference each day. Additional testing was provided for international attendees whose home countries required it before departure.
As guidelines continue to shift, we expect to see some of the above protocols loosening to match local regulations with fewer requirements for masking, while planners continue to incorporate other measures such outdoor meals and longer meal periods to lessen crowds.
One important lesson learned – have attendees test prior to departure instead of on arrival at the event. This alerts positive, but asymptomatic attendees know of their status before they travel,
Proactive Communications
Health and safety protocol communication should begin well in advance of the event, typically with registration launch to allow attendees to determine if they are comfortable attending the event before registering for the event. Reminders should be sent at regular intervals prior to the event, including any updates to protocols based on new local or national regulations.
An on-site communication plan is also a necessity, particularly if an attendee tests positive. Determine in advance what the communications will be should an attendee test positive and be sure that attendees know what to do should they, or someone they were in contact with, test positive.
On-Site Support
When it comes to the support provided on-site, it is essential that there be a comprehensive team to manage health and safety. This includes members from the event team, human resources, security and health vendors. A separate health and safety pre-con meeting is a helpful addition that allows all team members to give this important topic the time it deserves as you arrive on-site.
A top learning from our recent events was to rely on hotel security to monitor the daily wristband colors and ensure attendees were wearing masks throughout the event instead of the event team. Engage your human resources team to assist with handling any positive cases that may occur. Human resources assistance should be available at registration as well as on call throughout the event.
Top Takeaways
Have a team dedicated to health and safety to ensure it's a priority from the beginning.
Bring in the right partners to manage health and safety from a variety of viewpoints – event team, human resources, security, health vendor.
Be proactive with health and safety communications to attendees.
Keep the attendee experience top of mind including their comfort levels, engagement opportunities, health and safety and ease of access.
Have plenty of have extra tests on hand.
Consider offering different types of seating to allow for comfort levels – mix of traditional theater, crescent rounds and solo chairs.
Stay on top of local guidelines and what's happening in the industry related to Covid.
Implement a health and safety specific pre-con meeting to review all policies and procedures.
Be aware of other in-person events happening successfully and see if there are any learnings that can be applied to your event.
Stay nimble – things can and will change.
"It's exciting to start to see in-person events come back although they look totally different. The key to success is making sure your client and attendees feel comfortable about attending, which is all about communication from the start on health & safety protocols and the overall experience.  Also important is involving the appropriate internal teams on the client side so that you are all on the same page with executing your Health & Safety Plan."

– Erin McCommon, Director, Event Operations