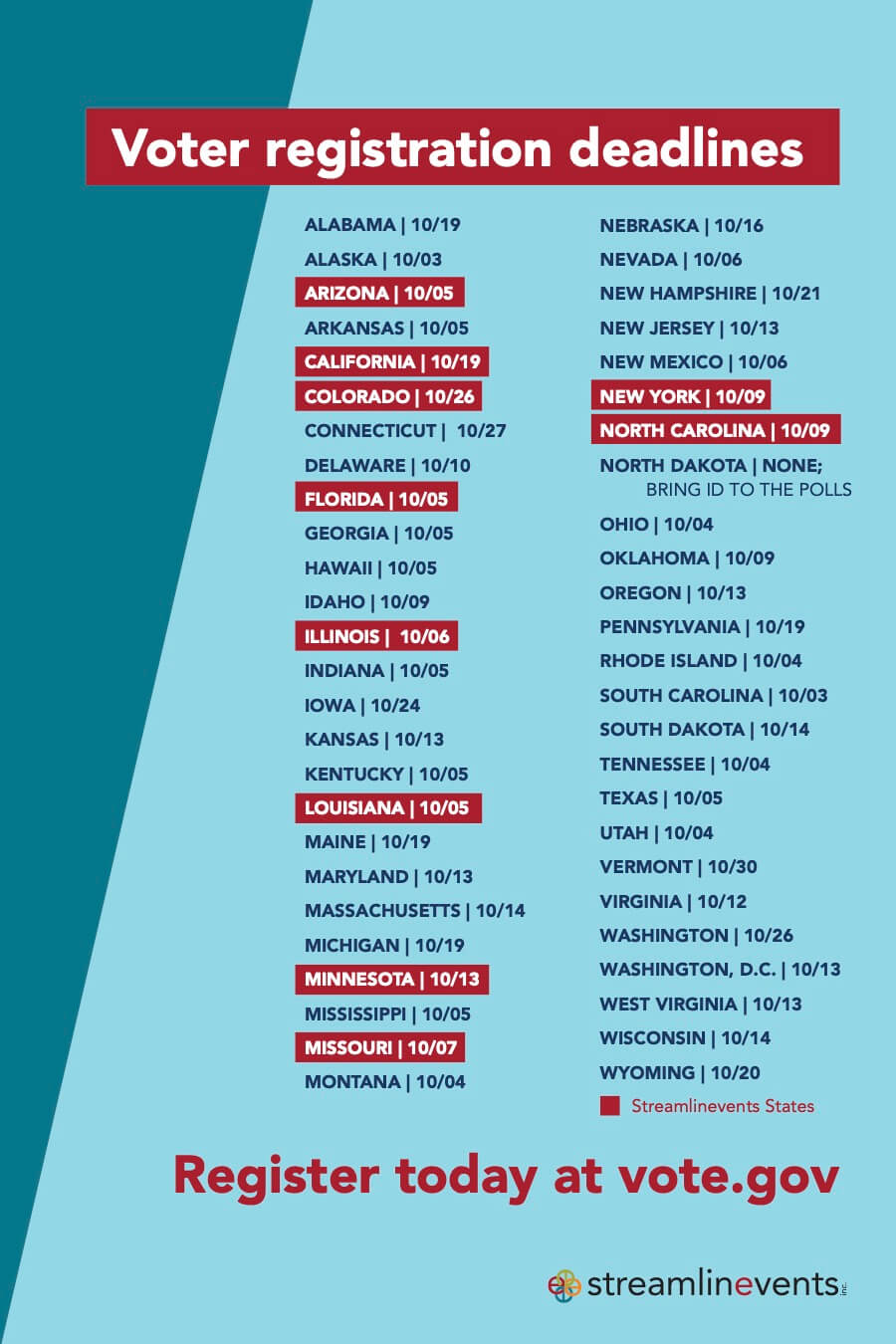 The power of voting cannot be overestimated. Your vote is your voice. It is the heart of a strong democracy.
Today is Voter Registration Day, and the registration deadlines are coming up quickly. Download our reminder, check your state's deadline and make sure to register on time.
Make your voice heard. Register!
Voter Registration Deadlines by State: 
ALABAMA | 10/19
ALASKA | 10/03
ARIZONA* | 10/05
ARKANSAS | 10/05
CALIFORNIA* | 10/19
COLORADO* | 10/26
CONNECTICUT | 10/27
DELAWARE | 10/10
FLORIDA* | 10/05
GEORGIA | 10/05
HAWAII | 10/05
IDAHO | 10/09
ILLINOIS* | 10/06
INDIANA | 10/05
IOWA | 10/24
KANSAS | 10/13
KENTUCKY | 10/05
LOUISIANA* | 10/05
MAINE | 10/19
MARYLAND | 10/13
MASSACHUSETTS | 10/14
MICHIGAN | 10/19
MINNESOTA* | 10/13
MISSISSIPPI | 10/05
MISSOURI* | 10/07
MONTANA | 10/04
NEBRASKA | 10/16
NEVADA | 10/06
NEW HAMPSHIRE | 10/21
NEW JERSEY | 10/13
NEW MEXICO | 10/06
NEW YORK* | 10/09
NORTH CAROLINA* | 10/09
NORTH DAKOTA | NONE; Bring ID to the polls
OHIO | 10/04
OKLAHOMA | 10/09
OREGON | 10/13
PENNSYLVANIA | 10/19
RHODE ISLAND | 10/04
SOUTH CAROLINA | 10/03
SOUTH DAKOTA | 10/14
TENNESSEE | 10/04
TEXAS | 10/05
UTAH | 10/04
VERMONT | 10/30
VIRGINIA | 10/12
WASHINGTON | 10/26
WASHINGTON, D.C. | 10/13
WEST VIRGINIA | 10/13
WISCONSIN | 10/14
WYOMING | 10/20
*Indicates state where streamlinevents employees live